FLOOR MEDICS PROFESSIONAL PRODUCTS
The professional's choice in stone, tile and grout care, formulated to their highest efficiency.
LEARN MORE
AQUA MIX PROFESSIONAL PRODUCTS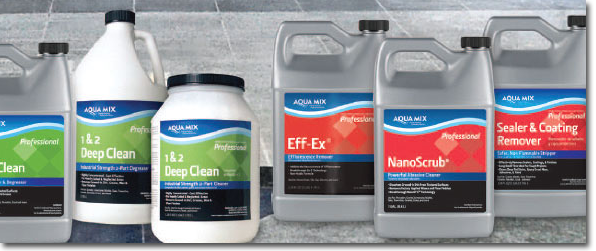 Aqua Mix, leading provider of innovative care products, complementary to our line of products providing an even wider coverage.
Official distributor of the Aqua Mix in Asia.
LEARN MORE
Preparing for stone or tile installation should be done with utmost attention to detail. Naturally, the first step is to properly prepare the surface. Our wide range of products can help get the job done in the best way possible. Contractors, designers and architects rely on us to give them the finish they need, complete with instructions and usage recommendations. Our company provides installers and builders the products and the tools they need for all construction projects. Regardless of surface material, be it mosaic, tile or natural stone, grout or whether it's located inside the property or outdoors, you'll need to make sure it's properly maintained and cared for. You should choose the right products and the right cleaning methods as not to damage the surface. The Problem. It makes total sense that bathroom tiles should be sparkling clean all the time since they come in contact with water, soap, shampoo and hygienic products every day, right? But that same exposure leads to unsightly lime deposits and soap scum which leaves behind stains and cause tile discoloration.
Tile, Stone & Grout Cleaners.
Our products are specially designed for daily routine cleaning and heavy-duty cleaning, as the perfect companion for maintaining your grout, stone and tile surface. Floor Medics offer homeowners and contractors the best floor cleaner and the best grout cleaners in the market today. Our products contain no acidic ingredients and won't cause environmental harm or damage your grout, tile or stone surface. Our solution breaks down into basic components and easily washes away without leaving any toxic residues. The Solution. Floor Medics have developed a wide range of home cleaning products and tools for stone and tile applications. You can rely on these grout, stone and tile cleaning products to solve any and all kinds of grout, tile and stone problems. Moreover, our cleaning products can eliminate grout haze residue, old finishes, rust stains, efflorescence and deep-set stains quickly and completely. For restoring the natural beauty of your marble surface, you can trust our marble stain remover to do the job.
Stone Restoration
Floor Medics' stone restoration products are green and efficient. You can use them to restore and maintain polished or honed calcium-based stone tile surfaces.
Tile, Stone & Grout Sealers
Our sealers are great at providing a layer of protection from chemicals, physical damage and stains. Our wide range of sealer products work best with matted or textured surfaces such as concrete, slate and terra cotta. Our Coating Sealers can be used to add slip resistance and a more polished appearance whenever used. Floor Medics' Surface Sealers and Aqua Mix Coating products are 100% safe and water-based. Aside from a good clean, stone surfaces and tiles need constant maintenance, polishing and protection. Floor Medics offer you a wide range of maintenance products for your tile and natural stone surface needs. When you need high-quality cleaning tools, marble polishing kits, marble polishing powders, UV cleaners, floor cleaners, marble stain removers, stone restorer and Aqua Mix Products, we have you covered. Rest assured that your natural stone surface and tiles will be well-taken care of.
We are pleased to inform you that our products are now available and successfully applied in the fast growing business centers of
Dubai, Qator, Bahrain, Abu Dhabi, Kuwait and Oman.
Also, our stone care products are highly appreciated in
Vietnam and Indonesia.
Try Floor Medics and see the results for yourself!